Farmers and Craftspeople:
Jenny Blain.
Copyright © J. Blain 2009
My father's family
Leith and Edinburgh: Possible connections of James Philp
Wrights and Silversmiths in Edinburgh (below on this page)
Related files in this section are:
Wrights and Silversmiths in Edinburgh
Return to contents for this speculative section
Philps in Leith, Cunningham and Couts in Edinburgh
Return to table of contents for the site overall
---
Wrights and Silversmiths in Edinburgh
This section attempts to follow the families of Thomas Couts, merchant of Edinburgh, his daughter Agnes who married Patrick Cunningham, wright there, and their connections with the Edinburgh goldsmiths and silversmiths, particularly William and Patrick Cunningham, sons of Patrick and Agnes and brothers of Marion Cunningham who married John Philp tailor of Leith.
Thomas Couts and Isobel Grege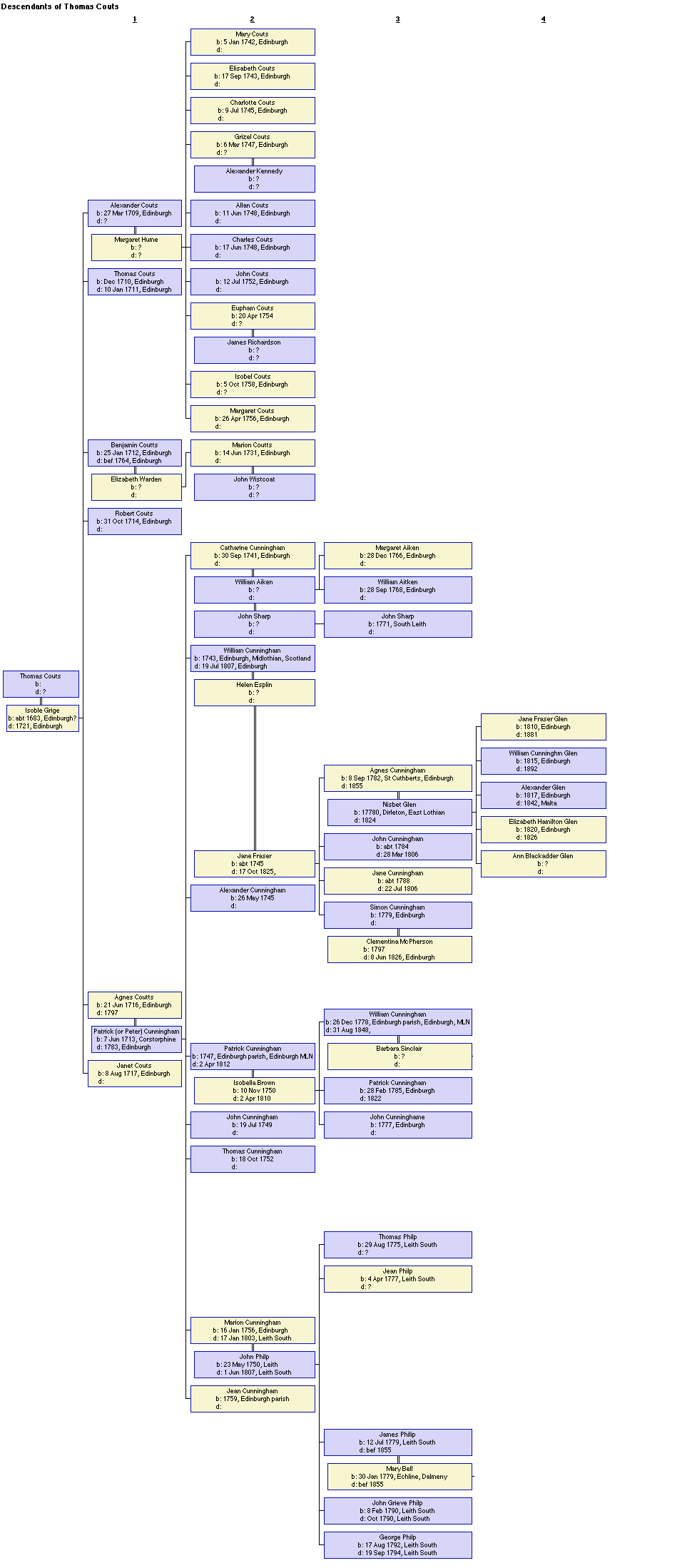 The chart on the right will open in a separate window if clicked. It shows descendents of Thomas Couts and Isobel Grege (Greig, Grige), some lines to four generations, others fewer. The marriage of James Philp and Mary Bell is shown but is speculative only.
Isobel Grege may have been the daughter of Andrew Greig (Grige, Grege) and Christian Mitchell, whose marriage is in Edinburgh records for 1679. Andrew was a tailor in Edinburgh. They had several children, though birth records are sparse. Two children of Andrew were buried in Greyfriars in 1684 and 1687. An LDS member lists children as Andrew (24 Oct 1679), Janet (3 Apr 1681), Isobel (6 May 1683 and Margaret (19 Feb 1688). The precise baptism dates may indicate that some trust cn be placed in these births, but this Isobel need not be the one who married Thomas Couts around 1709. There is no sign of Andrew Greig in either apprenticeshire or burgess records - he may have been an 'unfree' tailor, but on the other hand the Edinburgh records are not comprehensive and in particular sons of existing burgesses are often not recorded as apprentices (see Cunningham material below). We simply don't know what his status was - unless there is an extant poll tax record, which would greatly help here.
There is a need here to consider the situation of 'free' and 'unfree' - burghs and people - in Scotland in the 17th and 18th centuries. Only 'free' merchants of 'free' Royal Burghs could engage in foreign trade, for instance. Trade within the town or city was likewise restricted to the 'free', the burgesses, who employed various workers as unfree servants or free journeymen and free (to-be) apprentices, bound for a term of years before themselves becoming journeymen and potentially master craftspeople or merchants. The best exposition of the system that I have yet come across is my father William Blain's novel, Witch's Blood, which follows a (fictional) Dundee unfree family through the early modern period and the industrial revolution, with the des ignation of 'unfree' and 'burgess' becoming less and less relevant given the development of trade and industry.
Edinburgh was (and is) a Royal Burgh, as was on a much smaller scale Queensferry. Leith, however, was not. Some of the intricacies and frustrations of this situation are described in 'The Story of Leith' at http://www.electricscotland.com/history/leith/6.htm. Buying and seling of foreign goods was a particularly difficult situation for Leithers. See also acts of parliament at http://www.rps.ac.uk/search.php?action=fetch_jump&filename=william_and_mary_ms&jump=william_and_mary_t1693_4_101_d4_trans&type=ms&fragment=m1693_4_101_d6_ms
For Thomas Couts, we do not know an origin. We do know, however, that he was a burgess of Edinburgh, and a merchant. Later he is described as a vintner: this dual distinction might mean somebody who sells wines and spirits, or somebody who imports them, or both. There were various Couts (Cottis, Cowts, Coutts etc) families in Edinburgh but there is no information as to which he belonged. A rather more famous Thomas Couts, merchant and banker (and great-uncle of the Thomas Coutts giving his name to Coutts Bank), is associated with the initial rise of the banking trade - this is not he. (That Thomas married someone else and had children in London, and can be clearly demonstrated to be a different person.) Whether there is a link with the banking family, however, is another matter and there might be connections given the occupations of the children of Thomas Couts and those of his daughter Agnes.
The marriage of Thomas Couts and Isobel Grege does not appear in records. Their children are clearly 'lawful' so that a marriage is attested though we do not have the record.
These children were:
| | | |
| --- | --- | --- |
| Alexander | 1709 | tailor; Burgess in right of father; married and had numerous children |
| Thomas | 1710 | died at 5 weeks old in January 1711 |
| Benjamin | 1712 | goldsmith; Burgess in right of father; Married Elizabeth Warden, various children |
| Robert | 1714 | no further information |
| Agnes | 1716 | in 1741 married Patrick Cunningham, who became burgess in her right |
| Janet | 1717 | no further information |
How Thomas Couts became a burgess of Edinburgh is not clear. There were various paths to this status, almost all carrying a fee: inherited from a parent or through a spouse's parent, through apprenticeship to a burgess craftmaster, though straight purchase (expensive, without a family connection), or 'gratis', that is without charge for a period of some years, and in the gift of the council. All needed to be ratified by the council. There are two entries for a Thomas Couts (aside from the London banker). One from 1720 is 'Coutts, Thomas. mt, B. and G. for reduced payment, being already B. and G. gratis 30 Sept. 1720'. The other, from twenty years before states "Coutts, Thos, B., servitor to the Lord Provost (George Home), gratis 18 Sept 1700'. Thomas Couts is decribed as 'Burgess' on the baptism record of his son Thomas b. 1710. We don't know whether Thomas Couts' status is inherited or conferred for some other reason, 'Servitor' can mean a servant or a clerk - quite possibly a clerk in the office of the provost would be so described. (B ad G indicates Burgess and Gildbrother - these terms and extant records can be found on the Scotsfind website at http://www.scotsfind.org/databases_free/freedatabaseindex.htm.)
Isobel Grege's death was in 1721. I have not found Thomas Couts' burial record. Their lives spanned a difficult time in Scotland and in Edinburgh, of the union of the parliaments and the emergence of the booms and slumps of the early modern economy, including possible degradation of Scottish lifestyles. Their children were to experience even more change, the overturn of the old burgess system and the impact of the Enlightenment.
Silversmiths and changing systems: the children of Agnes Couts and Patrick Cunningham
I do not have a date for their marriage, but around 1740 Agnes Couts was married to Patrick Cunningham, a wright in Edinurgh. Patrick, from a Corstorphine family (see the file for Corstorphine farmers) and baptised in 1713, was apprenticed to James Burn, wright in Edinburgh on 29 April 1730, according to the Edinburgh apprenticeship records, aged 17, wihch seems quite old for an apprenticeship to start and may indicate an outsider status in the Edinburgh craft system.

This couple had at least eight children.
Catharine
1741
married twice, William Aitken and (in Leith) John Sharp, children from both marriages
William
1743
Silversmith and Goldsmith, many mentions, married Helen Esplin and later Jane Fraser, children.
Became a burgess in right of his father, on 22 May 1776.
Alexander
1745
nothing conclusive. Mentions of an Alexander Cunningham, Jeweller, may refer to a different, younger Alexander C (a lawyer who turned to jewellery work and was a friend of Robert Burns).
Patrick
1747
Silversmith and Goldsmith, many mentions, married Isobella Brown, children.
Became a burgess and gildbrother in right of his wife Isabella, daughter of Samuel Brown, watchmaker,on 22 May 1776
John
1749
no further information
Thomas
1752
nothing conclusive - may have married
Marion
1756
married John Philp, tailor in Leith, 1774, who became burgess in her right
Jean
1759
nothing further
There is also (in the South Leith burial records) a 'Vere Cunningham', born around 1761, 'Daughter of Peter Cunningham Wright in Edinburgh aged 18 years died 24th buried 26th June 1779 in the Taylors ground', who may have been a youngest child who was living in the household of her sister Marion at the time of her death.
The jewellery connection may result from the link to Agnes's brother, Benjamin Couts. However the sons William and Patrick seem to have been apprenticed to Patrick Robertson, silversmith and jeweller in Edinburgh. Text online at http://www.silvercollection.it/englishsilvermarksXWTRE3.html says:
William & Patrick Cunningham, William Cunningham was apprentice of Patrick Robertson in 1757. Freeman in 1776. Held as apprentices John Swinton Simpson (freeman in 1788), Simon Cunningham (freeman in 1800), Robert Hamilton active in Calcutta (freeman in 1787), William Dick (freeman in 1807) and Daniel Walker (freeman in 1815)

Patrick Cunningham was apprentice of Patrick Robertson in 1758. Freeman in 1775. Held as apprentices William Cunningham (freeman in 1802), Patrick Cunningham (freeman in 1808), John Cunningham (freeman in 1798), James McDonald (freeman in 1815)
The various Cunninghams mentioned above, William, Patrick, Simon and John, are family members. Several generations of Williams and Patricks were Edinburgh jewellers.
These Cunningham apprenticeships are not listed in the online Edinburgh apprenticeship records but are likely to be in records specific to the jewellery craft. The 1801 hallmark of the brothers William and Patrick Cunningham is given at the url above (scroll to WPC on the page), and others of this family can be found by searching Edinburgh hallmark, online. Items made by William and Patrick Cunningham can sometimes be found in auction houses today.
William Cunningham was a witness to the birth of Marion Cunningham's son James Philp in 1779.
---
Return to contents for this speculative section
Philps in Leith, Cunningham and Couts in Edinburgh
Return to table of contents for the site overall