Farmers and Craftspeople:
Jenny Blain.
Copyright © J. Blain 2009
My father's family
Leith and Edinburgh: Possible connections of James Philp
Tailors and seafarers in Leith (below on this page)
Related files in this section are:
Tailors and seafarers in Leith
Return to contents for this speculative section
Philps in Leith, Cunningham and Couts in Edinburgh
Return to table of contents for the site overall
---
Tailors and seafarers in Leith
A James Philp was born in 1779, in South Leith, son of John Philp, tailor in Leith, and Marion Cunningham. As stated previously I have not been able to show conclusively that he was the James Philp who married Mary Bell in 1799. Equally, I have not been able to show that he was not 'my' James Philp. Leith apprenticeship records for shipwrights may have held some information, but I have not had access to these - nor have I been able to locate them in either the National Archives of Scotland or the Edinburgh City Archives collections. They may simply not exist.
Here I will first outline the Philps in Leith, then give some indication of the discussions of the Leith tailors and operation of a small craft incorporation in the 18th century. In linked files (see section contents above) I turn to the Edinburgh connections of Marion Cunningham, go back in time to Johnstouns and Cunninghams in Corstorphine and finally look at the families associated with Adam Keir - from Huxton in Berwickshire, Haddington, and Edinburgh.
The story of the Philps in Leith begins with a marriage of Margaret Duncan and John Imrie on 11th June 1704. Margaret was a servant of Lady Bearford, John schoolmaster in Moneydie in Perthshire, yet they married in Edinburgh's South Kirk parish. They had a daughter, Margaret, born around 1707, probably in Moneydie. John died in 1717; the Kirk Session records start, in Moneydie, in that year, and they commence with a complaint that the clerk who kept the records, the late schoolmaster Mr Imrie, having recently died there is some confusion in the Kirk Session. (The minister seems to have died around the same time, so there is no continuity of records.) Indeed, some of the first pages of the record deal with members of the Session going to see the widow of the erstwhile clerk, Margaret Duncan, to ask her for any materials she has: but she sends them away saying she has no records of theirs.
After some years, Margaret Duncan and her daughter may have returned to Edinburgh. Certainly Margaret Imrie, the daughter, was married in Leith, to Thomas Philp, tailor.
Thomas Philp Taylor in Leith & Margaret Imrie Daughter to the deceased Mr John Imrie late Schoolmaster at Moneydie, after proclamation of Banns, were Married 18 November 1743.
(South Leith parish records)
The marriage is late. Margaret Imrie is likely to be in her mid-30s at the time of the marriage. It is possible that Thomas Philp, tailor in Leith, was a widower. Leith parish records show a Thomas Philp 'tailor in St Anthonies' married to Agnes Philp with children William and George, both born around 1730 (possibly twins), George dying aged three in January 1734 and Agnes herself in August 1743. The marriage of Thomas Philp, tailor in Leith, and Margaret Imrie was only three months later. From their ages in death records, Thomas will have been around 34 at the time of the marriage, Margaret 36, so that this being a second marriage for Thomas is quite possible. However the will of Thomas Philp, in 1772, has no indication of children other than those from the marriage with Margaret.
John Philp and Margaret Imrie had at least three children, Thomas, Margaret and John. Margaret was born in 1745, and died aged 11 in 1756. John apparently born in 1750 - the birth record shows no name, only that a son was born, but the date fits with later information. Thomas is likely to have been older than John.
Of the surviving children, John became a tailor in Leith, like his father. Thomas was a shipmaster. An entry in the Edinburgh Advertiser of 1772 names him as master of the Venus of Leith.
Leith, Feb.21. Wind S.E. Arrived the Venus of Leith, Philip, from St. Lucar with wine and fruit; and the Nancie, Crawford, from Hull with grain.

Advertisements
Seville oranges, in the greatest perfection for marmalade, also China oranges and lemons, imported in the Venus, Thomas Philp master, from St. Lucar, to be sold in chests or half chests, by Charles Cowan merchant in Leith.
The vessel has had a quick passage, and the fruits are in excellent order, and will be sold at a very moderate price.
There were various Philps in Leith before this time, and indeed Thomas Philp may have had a brother George, also a tailor, both in the St Anthony's area of the town.
Thomas Philp, senior, died in June 1772 aged 63. Unusually, he left a will (testament testamentar) drawn up in April 1772 when he was 'at present distempered in Body but sound in Memory & Judgment and being resolved to settle my worldly affairs' which indicates his wife Margaret Imrie as his executor. Thomas his son has a draft of money, for the sizeable sum of one hundred pounds sterling, to be shared by himself and his brother John and drawn on for expenses relating to the death; Margaret will have five pounds every year, and any of the 'household furniture goods gear and effects' and is entitled to any 'sundry debts and sums of money presently pertaining and addebted. There is no mention of heritable property..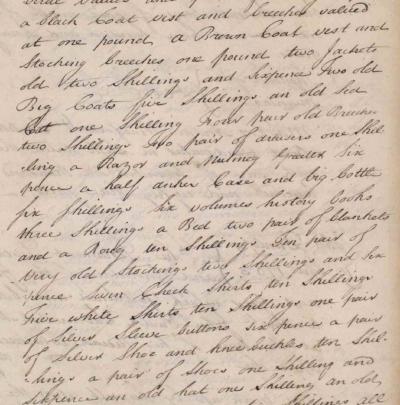 Thomas the younger, however, did not long outlive his father, dying abroad in 1777; his testament dative and inventory is accessible from Scotland's People, and it shows that his goods and gear included 'six volumes of history books' and various items of clothing appropriate to a shipmaster shown in the extract attached. His goods were valued by a rouping woman, Agnes Cunningham. She may have been his brother's mother-in-law, Agnes Couts who married Patrick Cunningham, or the name may have been a coincidence - but this is getting ahead of my story.

John Philp followed his father as a tailor in Leith. He and his wife Marion Cunningham (they married in 1774) had at least five children, the eldest being Thomas born in August 1775, with baptism witnesses Alexander McLaren and Thomas Philp, both shipmasters. Jean was born in 1777 (witnesses George Steads and Alexander McLaren, shipmasters) and James in 1779. Witnesses to the baptism of James were William Cunningham, Goldsmith in Edinburgh, and David Greig, Smith in Leith. Two later children, John Grieve (1790, witnesses John Harlow, shipmaster and Nicol Bell, coppersmith) and George (1792, witnesses Alexander McLaren and John Harlow), died in infancy. There is the possibility of other children between James and John Grieve, but no records either of births or deaths that I have been able to find. John Philp was certainly in South Leith at this time, as shown by records from the Tailors' society.

(Confusingly, another John Philp, also a tailor in Leith, had married Agnes Patterson in 1770, their children including William born 1772, Agnes 1773, Katharine 1775 and John 1777. It is the presence of Thomas Philp, shipmaster, as witness that indicates which John Philp was the son of Thomas Philp and Margaret Imrie. These families, however, may have been related. At the time when Thomas the elder was a tailor in St Anthonies, a George Philp, tailor, was there also, married to Catharin Linklater. From the various sets of parish records (none complete) I am attempting to sort out the relationships of these various Philp families, and will return to this later.)

A mantua-maker in Shore, Leith, Jean Philp, had advertisements in the Caledonian Mercury in the 1800s, and she may have been the Jean born in 1777, daughter of John Philp and Marion Cunningham.

Hoping for some resolution, I spent some time in the Edinburgh City Archives, looking at records of various societies. These included the Incorporation of Tailors of Leith. Part of their story, as relates to the Philps, is summarised here.

Thomas Philp was one of the signatories to the articles of the Incorporation in 1730. He is also indicated as an attendee at the meeting of the Tailors' society which apparently drew up or ratified these. Other attendees were George Simpson, Matthew Crawford, Robert Logan, Michael Wright, Robert Falconer, John Tayler, George Kinnerd, William Blyeth, John Wilson, and Kenneth Stewart.

The articles are given in the society's minute book - in the opening pages, currently in poor condition but earmarked for conservation [1]. The signatories - 25 in one column, 23 in the other - include many who did not attend the regular meetings of the Tailor's society, and who many not have been 'freemen', as demonstrated by one David Hosie, who signed using his initials only. A later commentator has appended details including his full name and the date of his admission to 'freeman' status.

Indeed, the first regular entry in the minute book, in 1738, is about this David Hosie.

David Hosie Taylor Craving to be Admitted a freemen of this Incorporation upon his paying the usuall upsell as one who purchased the freedome . . . Six pounds Sterling of Entery money

Hosie, evidently already working as a tailor, has purchased the right to be considered a master and take on apprentices. Remember the amount - £6 sterling.

Thomas Philp was a regular attendee at Society meetings (David Hosie also now becoming so). In the society elections in August 1742 he was elected Boxmaster, the equivalent of a treasurer today, and he continued so until August of 1745. The craft gilds or societies were run by officebearers being the Deacon and the Boxmaster, with a clerk who might usually be a trained scribe or some kind or lawyer making the records. Every meeting record for the Leith Tailors begins with the sederunt (a term familiar to Scots but probably not to others, implying 'those sitting here', the attendees, and indeed extending to be a term for the whole record or minute, as in 'Sederunt book') which names the Deacon and Boxmaster followed by others present. Usually there are from five to eight members attending. The Boxmaster was custodian for the society's boxes: these were several and held the money - every member making a contribution each meeting, other monies coming in through payments such as that of Hosie, or fines - and other items such as the mortcloth which was used at society members' funerals. Other society members could be designated 'keyholder' for the various boxes, providing further security. In the days before banking and audits, this was how craft business was conducted.

From October 1749 until August 1751 Thomas Philp was again Boxmaster. On 8th August 1755 he was elected Deacon, which role he fulfilled until August 1759. In March 1762 he became acting Boxmaster on the death of the current incumbent John Williamson, and in Aprill 1762 became also acting Deacon on the illness of the incumbent Michael Wright, being re-elected as Deacon in August of that year. He continued in that role until 1765, thereafter continuing as an attending member until early in 1772, the year of his death. Thomas Philp seems to have been a 'pillar of the community', much valued by his craft society, the person to be called on when needed. In this time, the society seems to have run fairly smoothly, despite other social upheavals.

This was about to change.

In 1770 his son John, apprenticed possibly to his father, attained the age of twenty. He petitioned for freeman status within the Incorporation.

3d July 1770
This day there was a petition presented for John Philp son of Thomas Philp a member craving to be admitted a freeman Taylor in South Leith and member of this incorporation which being considered by the Meeting they agree to grant his desire upon his performing in the terms mentioned in his Petition and for trial of his qualifications appoint him to make a suit of Cloaths and this essay to be in readiness to be presented on or before next quarter day and appoint Edward Bowie James Niddry and James Lee & Robert Smith to be his essay Masters (signed) John Muir.

13th July 1770
. . .This day John Philp presented his essay mentioned in last Sederunt and they Essay masters having declared that they were satisfied therewith and he present in the Meeting having paid down fifteen pounds Scotts for his upset as a freemans son with the Clerk & officers dues given his oath de fideli & signed the regulations wherefore he is hereby admitted & Received a freeman Taylor in South Leith & member of this Incorpn & intittled to all priviledges thereof as such.

John Muir was the current Deacon. To translate pounds Scots to pounds Sterling in the 18th century requires a division by twelve. John Philp, freeman's son, paid £1 5s sterling: David Hosie, thirty years earlier, with his six pounds sterling, had paid five times as much, the equivalent of 72 pound scots to gain his status 'by purchase'.

John Philp became a regular attendee of the meetings, and almost immediately started making attempts for status in the organisation. In 1770 he was appointed a 'keykeeper', the Boxmaster then being Hugh McFarlane. In 1771 he stood, unsuccessfully, for Boxmaster. On 21st Aug 1772 John Philp and Thomas White were appointed essay masters for the essay of John Hosie (son of the now deceased David Hosie). This was completed and approved at the next meeting on 27th August 1772.

Think about this for a moment - these young people were producing their 'essay' - which was a whole suit of 18th century gentleman's clothing, not an easy item to conjure instantly - in a very short time after their 'craving' to become a society member.

I'll pause this now and post to it to the website - there is more to come!
---
Footnotes: [1] I offer sincere thanks to the staff at the Edinburgh City Archives. They went out of their way to look for 'lost' material, found it, and provided advice and support. I was able to read only a portion of the minutes but hope to return there and read further. The Tailors' minutes are only part of what they found for me - but still took up most of my time on the second day I was able to be there. I was looking for any evidence that James son of John Philp was not the one in my ancestry - for instance, apprenticeship as a tailor - but have not found such as yet.
---
Return to contents for this speculative section
Philps in Leith, Cunningham and Couts in Edinburgh
Return to table of contents for the site overall