Farmers and Craftspeople:
Jenny Blain.
Copyright © J. Blain 2005-09
Additional

My father's family:

Blains in Wigtownshire and Greenock

A possible link; Cunningham and Couts in Edinburgh
Knaggs, Mushet and Gorrie lines

The Knaggs family and the sea

Return to table of contents for further sections
---
My father's family
The Knaggs family and the sea
Margaret Knaggs who married Peter Blain in 1901 was the daughter of George Knaggs, a sailmaker in Gourock, son of George Knaggs porter in Greenock, son of George Knaggs, Clyde pilot. Something of the history of the Knaggs line is sketched out in earlier material. However, I now have considerably more, on the Knaggs line in Greenock and on some of the families they married into. I'll begin with the George Knaggs who first came to Scotland from North Yorkshire. This search has been aided not only by finding a distant relative who had mapped the family of the Knaggs in Yorkshire, but by material from my second cousin George Knaggs, in Gourock, who had likewise been investigating the coming of the Knaggs line to the Clyde and had created his own manuscript - which he has graciously lent me and from which I will quote some material in this account.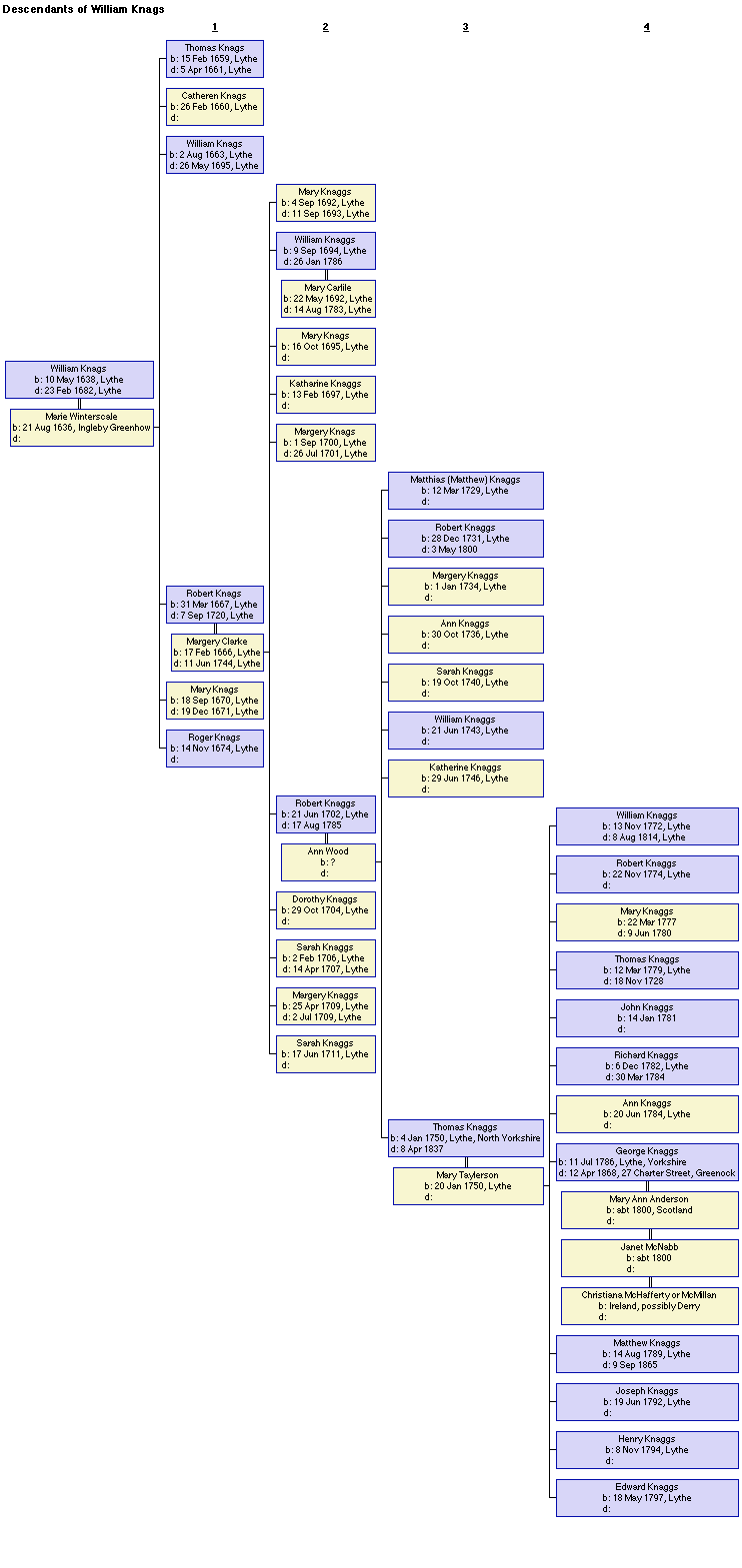 This George Knaggs was born in Lythe, just north of the port of Whitby, in 1786, a descendent of farmers. His parents ran an inn. An elder brother, John, became a master mariner. The first Lythe Knaggs of whom I have any information was William baptised in 1638 who in 1658 married Marie Winterscale. The diagram on the right shows four generations of their descendents; for information about these Yorkshire Knaggs I am indebted to Jeffrey Knaggs, a descendent of William Knaggs baptised 1694 (shown on the diagram with his wife Mary Carlile), the great-uncle of George born 1786.
Please click on the diagram to open in a new window in order to enlarge it.
The name 'Knaggs' is not English in origin: rather it is Scandinavian, probably Danish, and the first bearers of the name in England may have been Danish speakers descended from those who arrived around the 9th century to settle. The church of St Oswalds in Lythe has several carved stones which may come from the Danish period, showing both Pagan and Christian symbols. Some occurances of the name in the mediaeval period are given on Jeffrey Knaggs' webpages at http://homepage.ntlworld.com/jeffery.knaggs/
Why George Knaggs left Lythe to head for the Clyde - or even when he did so - is something we will probably never know. He may have become a seaman in Lythe or in Whitby. He is said to have been at Trafalgar, though in what capacity isn't known. The first sign of him in Scotland is as a deck-hand on Henry Bell's paddle steamer the Comet - the first steamship on the Clyde in 1812 and the first commercially-successful steamship in Europe, named for the 'Great Comet' visible in 1811, a tiny boat which could have had only a master, mate or engineer and one or two deck-hands. The Comet carried passengers between Greenock to the Broomielaw, a distance of 21 miles, with a fare of four shillings or three shillings depending on which cabin was selected by the passengers. An advertisement placed by Bell in August 1812 stated:
THE STEAMBOAT Comet BETWEEN GLASGOW, GREENOCK AND HELENSBURGH FOR PASSENGERS ONLY
The subscriber, having at much expense, fitted up a handsome vessel to ply upon the River Clyde from Glasgow, to sail by the power of air, wind, and steam, intends that the vessel shall leave the Broomielaw on Tuesdays, Thursdays, and Saturdays about mid-day, or such hour thereafter as may answer from the state of the tide, and to leave Greenock on Mondays, Wednesdays, and Fridays in the morning to suit the tide.
Within a few years several paddle steamers were not only conveying passengers between Greenock and Glasgow, but to Rothsay, Largs and other destinations. Bell had the Comet partly rebuilt, lengthened and with a more powerful engine, but in 1820 the Comet was wrecked near Oban. By this time, George Knaggs had moved on. George Knaggs' manuscript tells part of the story.
'The second steamer on the Clyde was the Elizabeth which was launched for the yard of Messrs Wood, Port Glasgow in 1813 and George was made Master of the Vessel which also sailed between Greenock and Glasgow. He was therefore master of the second steamer on the Clyde. On 28th May 1815 he was admitted a pilot on the river and in that capacity he conducted the first steamboat the Margery, of 70 tons, which ever performed the passage from Glagow to London, this was in 1821.'
George, as a river pilot, went on to bring ships of increasing size up and down the river, between the deep-water harbour of the Tail of the Bank and the Broomielaw. Ships included the Robert Bruce, the first steamship to make the voyage to Liverpool, in 1821 the St. James, a ship of 200 tons arriving from Jamaica, and in 1828 the Strath Ban of 1000 tons, from Derry. According to a newspaper summarising his achievements on his retirement, he 'put her at the Broomielaw in one tide'. On 13th July 1849 he was called on to pilot the royal squadron, 'with her Gracious Majesty the Queen, Price Albert and Royal Family' up the Firth of Clyde to Glasgow, on the occasion of Queen Victoria's visit to Glasgow. The newspaper account is taken from the Glasgow Herald of August 29, 1855, the source of much of the information about his career, which begins:
A Veteran. - An old pilot, named George Knaggs, aged above 70, who was connected with steam navigation in the Clyde from its commencement in 1812 until 1815, has just been superannuated by the Pilot Board. This venerable hero was at the celebrated battle of Trafalgar, when Nelson died in the arms of victory in 1805, exactly fifty years ago...
The Glasgow Herald article puts his arrival on the Clyde in 1810. How did the deckhand become so rapidly a master? Was he chosen as a deckhand because of special skills, perhaps through naval experience? Was there a connection through his first marriage? Three years after his arrival he was master of the Elizabeth, and rose rapidly after that.
George was married at least three times. Of the first marriage, however, there is no record that has been found. His eldest son George Knaggs was born around 1819, the mother's name being Mary Ann Anderson: this information comes from the death record of this second George Knaggs in 1875 when he was aged 56, and from census records from 1841 and subsequently.
The second marriage was on 29th March 1827, between George Knaggs, Sailor, and Janet McNabb. This took place in Greenock middle parish, but the family moved to Glasgow and a child Janet Kay Knaggs was born there on 15th March 1830, another, Daniel born in Old Kilpatrick, Dunbarton on 22 May 1835. The 1841 census however shows George Knaggs, pilot aged 50 (i.e. between 50 and 55), son George, an apprentice pilot aged 19, and a servant, Isabella McClane (25) in Greenock, in a house in West Quay Lane, with no sign of Daniel or Janet; it is probable that Janet McNabb had died and that her children were with relatives, though the elder, Janet Kay, may have died. My cousin George Knaggs has a record of the father and son George living in West Shaw Street around this time. On 12th September 1841 a marriage was proclaimed between George Knaggs, Seaman, and Agnes Crawford, in Cumbrae, but there is no way of telling whether this was a marriage of George the father or George the son (or, indeed, another George, perhaps a relative from England). George the father certainly was married again in 1847 in Greenock west parish, 'booked' 3rd April and married 19th, his wife being 'Christianna McHafferty daughter of William McHafferty labourer in Derry Ireland' according to the detailed record which also spells out his occupation and parentage, 'mariner son of Thomas Knaggs farmer in Yorkshire' so that there can be no doubt. It is likely to have been a second marriage for Christiana, as she is referred to as McMillan on the death record of George - unless of course there was yet another marriage of this George Knaggs!
In the 1851 census, George the elder is at 54 Dale Street in Tradeston, Glasgow, described as River Pilot on the Clyde aged 65 with his wife Christina aged 40; Daniel is also in the household, aged 15 and an apprentice boatbuilder. In 1861 George and Christina have returned to Greenock west parish, and are at 31 Crawford Street. And on 12th April 1868 George the Pilot died, at 27 Charles Street, Greenock, aged 81, the cause of death given as 'age', his widow's name given as Christina McMillan, and the record signed by his son George in what looks to be a shaky and unpracticed hand.
The second George Knaggs was born sometime around 1819-21, the birth not recorded, and we do not know where his mother Mary Ann Anderson was from. My cousin George Knaggs tells me that this George's middle name was Sutton, which may relate to English relatives as it is a relatively uncommon name in Scotland. In the 1841 census George is an apprentice pilot, and hence he could be the 'seaman' who is married to Agnes Crawford in 1841, though it may be more likely that this was another marriage of his father, one that would separate father and son as regards daily life. The next we hear of George Knaggs is his marriage in 1843 to Christina Mushet, whose ancestry is given on another page. (See contents above - James Mushet and Helen Gorrie.)
The marriage record from Greenock East parish reads
George Knaggs, Boatman and Christina Mushet both in this parish procld 5th November 1843.
In the 1851 census George and Christina are living iat 40 Shaw Street, with several children and a boarder. George is now a porter - surely indicating a significant drop in status. The information shows:
| | |
| --- | --- |
| George KNAGGS, head, married, 30 quay porter | (born) Glasgow, Lanarkshire |
| Christina KNAGGS, wife, married, 27 | Glasgow |
| Mary Ann KNAGGS, daur, 6 | Greenock, Renfrewshire |
| Helen KNAGGS, daur, 4 | Greenock |
| George KNAGGS, son, 2 | Greenock |
| Marion KNAGGS, daur, 8 months | Greenock |
| John McTAGGART, lodger, married, 48 quay porter | Greenock |
(The image of this census is not available from Scotland's People and the information sent to me by a member of a family history group did not include the wife of John McTaggart.)

The 1861 census has them living in William Street, ages for George and Christina both given as 40, with seven children ranging from Helen aged 15 to Thomas aged 1, and two lodgers, seamen in their 30s, in a house which has one room with windows. George is again described as 'porter' and his birthplace given as Glasgow. The 1871 census has them at 13 East Quay Lane, with five children who are Jemima aged 15 who is now a wool factory worker, Hannah aged 14, Christina 12, Thomas 10 and John aged 7. There is one 'windowed room' in the house.

From these censuses, from several birth records and from the work of my cousin George Knaggs, the ten children of George Knaggs and Christina Mushet can be listed as:
| | |
| --- | --- |
| Mary Ann Anderson Knaggs | baptised 30 March 1845 |
| Helen | baptised 21 June 1846 |
| George | 1849 |
| Marion | 1851 |
| Jemima | 1853 |
| Isabella | 30 Jan 1855, died 5 Feb 1855 |
| Hannah | 28 Feb 1856 |
| Christina McMillan | 4 Oct 1858 |
| Thomas | 22 Aug 1860, died July 1874 |
| John Sheddon | 1 Jan 1864 |
At the time of the birth and death of Isabella in 1855, the family were living at New Sock Land, at the foot of East Quay Lane. The family then had '4 girls and 1 boy living, 2 girls deceased'; there is the possibility that an earlier child may have been born in 1844, also bearing the name Mary Ann Anderson Knaggs.
Some images of old Greenock can be found at http://www.greenock-town.co.uk/pics.html. One shows East Quay Lane, demolished in 1877 as 'unfit for human habitation'. Another available at http://www.kempockdigital.co.uk/digital2/scotlandthen/Clyde/Greenock/gallery.html shows East Quay Lane with a baggage-laden porter in the foreground. East Quay Lane led in the mid 19th century from the Custom House Quay to the Central (railway) Station built in 1841: passengers were required to walk up it to reach the train to Glasgow and places further, to run down it to each their ships. It was a narrow cobbled street with tenement houses, covered with ordure and steep at the end nearing the station. My cousin George Knaggs comments:
The family lived at 13 East Quay Lane which was a narrow insanitary passage notorious as an extremely unpleasant route through which passengers from the Central Station (built in 1841) were advised to hurry to catch their connections at the Custom House Quay. After the cholera epidemic in 1832 householders were bound to keep all their refuse which included human waste in their houses until after 10 pm and then deposit it in the street between 10 pm and the early hours of the morning. Thus human excrement is found all over the street....The mid waterside area of Greenock was a filthy place to live in...

Over 1 million passengers passed through East Quay Lane in a year and I would like to think that George Knaggs licensed porter Badge number 6 had a reasonable wage which in these days ranged from 1 shilling to 17 shillings per week, and rents ranged from 6d to 3 shillings per week. As a porter George plied his trade between Central Station and Custom House Quay (Steamboat Quay) passing his house many times a day...
Descriptions from the time show a street rife with disease - cholera and typhus - malnutrition, brawling and robbery. Despite the conditions, George and Christina raised nine children past infancy; though one of these, Thomas, died aged 14 in 1874. Cholera, the scourge of the vennels and narrow insanitory streets, returned and George himself died, at 13 East Quay Lane, in September of 1875. Christina took her own life on 13th September 1879, and was found hanging the next day by her son-in-law William Burns, husband of her daughter Marion. A brief note in the Greenock Advertiser on 15th September stated that 'Mrs Christina Mushat Knaggs commited suicide at East Quay Lane, Greenock on 13th September 1879 age 57' and a more detailed account of the death on 15th September states that 'On a table she had left a note saying that she did not wish to trouble her family any longer.'
How George came to be a porter after his marriage is not known. He may have fallen out with his father. He may have run into some kind of problem. As a porter carrying or pushing heavy loads he would have to be fit, so that an accident is an unlikely explanation. Is it possible that the marriage was at the root of a rift between son and father? However that may be, at least two of the children were able to develop careers as sailmakers. My father thought that the third George Knaggs was given a start by his grandfather. This George is not in the census in 1861 and may be at that time on a ship as an apprentice sailmaker; he would be around 12. By 1870 he is married to Elizabeth McLachlan, and in the 1871 census she is at her parents' house while he is, presumably, on a ship.
George Knaggs and Elizabeth McLachlan were married in 1870. They were living in Inverkip Street at the time of the marriage, but Elizabeth seems to have returned to her parents' house, possibly when George was away at sea.
Elizabeth's father Robert McLachlan was a sugar-house worker, and he and his family - his wife Elizabeth Russell and children including Andrew, Robert, Elizabeth, Mary and Annie had arrived in Greenock from Ulster in the 1860s. There may have been others, James and Margaret, born in Ireland, who may have come to Greenock also and married there or moved to other households; or they may have emigrated, or remained in Ireland. In records of Cullybackey Presbyterian Church, in Antrim, there is a marriage of Elizabeth Russell and Robert McLaughlin in 1835, followed by births of Andrew in 1837, James in 1840 and Margaret in 1843. I do not have records of the other births, but the 1871 census indicates Robert born around 1847, Elizabeth 1851, Mary 1853 and Annie 1857. In 1871, Andrew at 33 is a sugarhouse labourer, the younger Robert at 23 a coppersmith, Elizabeth and Mary, 19 and 17, tailoresses.
Work in the sugar houses was hard and hot. Crawford Lane, however, cannot have experienced quite the same conditions as East Quay Lane with its dreadful reputation; the household had three rooms with windows, and Robert at least had a skilled trade.
The eldest son of Elizabeth McLachlan and George Knaggs, another George born in 1870, died in infancy. Later children were:
| | |
| --- | --- |
| Robert | 1872 |
| Christina Mushet | 1874 |
| Elizabeth Russell | 1876 |
| Margaret Grant | 1878 |
| Georgina | 1880 |
| James McLachlan | 1882 |
| Lillias | 1885 |
| Thomas | 1886 (died 1887) |
| Hannah Stewart | 28 Feb 1888 |
| Alan | |
| John Hamilton | 1891 |
| Daniel | 1892, dying the day after birth |
According to George Knagg's information, the family lived initially in Inverkip Street, later at 4 Watt Street and finally 20 Shore Street in Gourock, further west. In the 1881 census they are at 30 Wellington Street, with five children, and Elizabeth's sister Annie, a tailoress, is staying with them. Thomas's death in 1887 occurred while the family was in Watt Street. Elizabeth McLachlan died in childbirth at 20 Shore Street on 8th December 1892, the baby Daniel dying the following day. I do not have a birthdate for Alan. Margaret Grant Knaggs, my grandmother, looked after the younger siblings before entering domestic service. George's long association with the cooperative movement led to his living in a flat in St John Street in Gourock, which may the one described by my father as being quite luxurious for its time and with a splendid view.
Of the other surviving children, Christina Mushet Knaggs married Hector Thomson, a manager at Gourock Quarry, and had two children, Lily and Chrissie. She emigrated to the USA after the death of Hector. James McLachlan Knaggs emigrated to the USA; Hannah emigrated to Canada and married there; Allan emigrated to Salem in Massachusetts.
Robert Knaggs joined the army, later returning to Gourock after marriage to Mary Logan in Glasgow in 1911. They had three children, George, Robert and May; and George was the father of my second cousin George Knaggs who today lives in Gourock and has given many of these details. Elizabeth Russell Knaggs lived in Glasgow after marriage to Thomas McLuskie. Georgina married in Gourock, her husband's last name being Agnew, and had a daughter Elizabeth. John Hamilton Knaggs became a manager at Scott's shipbuilding yard in Greenock, later retiring to Rothesay.
Lillias took over looking after the younger siblings, and became her father's housekeeper, helping to raise the children of Christina, Lily and Chrissie. Eventually (in 1928) she went with her father George to the USA, to stay with Christina, but they returned shortly; and George Knaggs the sailmaker died on 24th January 1931 at 20 Cardwell Road, Gourock.
I have only limited information on the families of Robert McLachlan and Elizabeth Russell, parents of Elizabeth McLachlan. Records in Ireland are sparse. The records of their deaths in Scotland are therefore crucial. Robert died in Greenock in 1871, and Elizabeth Russell in 1888, in Glasgow, her death reported by her daughter Mary who had married John McGlone; from these records, the parents of Robert McLachlan were James McLachlan, farmer and Elizabeth McKay, and of Elizabeth Russell, Andrew Russell, bleachfield labourer, and Elizabeth McAloney.
I had no knowledge of where in Ireland they might come from, only that the names were as much Scottish as Irish, family stories said 'northern', and so an Ulster connection was most likely. Most Irish records are either destroyed or not transcribed; and while some Northern Ireland record have been preserved, I had no access to these. But a search of IGI showed records of a marriage and birth of a son Andrew in Cullybackey in Antrim, in the right years, though not transcribed from parish records. A request on a genealogy forum resulted in a kind offer to look up records from the Cullybackey Presbyterian Church and - the records are indeed there, giving the marriage of Elizabeth Russell and Robert McLaughlin on 24th December 1835, the baptism of Andrew 15th February 1837, James born 4th January and baptised 18th January 1840, and Margaret Jane born 2nd and baptised 4th February 1843. There are others which point to possible connections - children of a James McLaughlin and a William McLaughlin, who may be related to Robert. Unfortunately I do not have access to older entries from the 1810s and 1800s, if these exist.
Further investigation (and a trip to Cullybackey, making use of a visit to Derry for a conference) revealed something of the history of this place; a townland within Craigs parish (the nearby Craigs townland holding the Church of Ireland church), a village dominated geographically by its Presbyterian church, a small, now generally middle-class community north-west of Ballymena. The older houses have almost all gone, and the church was rebuilt in the late 19th century. I am tempted to think that over the decades, Cullybackey has exported its poor - to Ballymena, to Greenock and Liverpool, to North America and elsewhere. I stayed at a guesthouse at Dreen, north of the village, which was a townland in its own right - a set of farm-buildings, expanded and converted. Was James McLaughlin a 'farmer' in the sense of holding a small strip of land, possibly associated with a place such as this?
Few Ulster census records survive - none, alas, for Cullybackey or for the part of Craigs townland which is nearest this village. A census-substitute is the Primary Valuation of Ireland, known as 'Griffiths' Valuation'. This shows householders and tenants, and entries for Craigs include a Robert McLaughlin and a William McLaughlin, in houses leased from a Robert Young; unfortunately the map showing their small landholdings or houses and the proximity of these of Cullybackey is not available. Details of the valuation include:
Number
Occupiers
Lessor
Description
Area
A. R. P.
Land rav
£ s d
Bldgns rav
£ s d
Total annual
valuation
£ s d
29
Robert McGloughlin
Robert Young
House and garden
0 0 30
0 5 0
1 0 0
1 5 0
30
William McGloughlin
same
House and sm. garden
--
--
1 0 0
1 0 0
where 'rav' is Rateable Annual Valuation, and A R P stand for units of square measurement, acres, roods and square perches.
(A square perch was 30.25 square yards, or 25.39 square metres, according to the Ordnance Survey Ireland website at http://www.osi.ie/en/faq/faq3.aspx. Robert McLaughlin's garden may have been 910 square yards or 759 square metres - imagine a piece of land around 38 metres by 20 (125 feet by 64) though not having the map we do not have proportions and it may have been longer and thinner. This would give a smallholding, providing a kitchen garden and space for some livestock.)
Robert Young in turn leased his properties from Henry Hugh McNeile. These properties included his own 'House, offs (offices), gate-lodges, and land,' with an area of 153 acres and 'Beetling-mills & bleachworks', the value totalling £355 0s 0d. The value of properties occupied by the sub-tenants appears to be not included in that sum. Other sub-tenancies ranged from a house alone, house and office, house and small garden, house and garden, house, offices and garden, house, office and land, with values from £1 0 0. to £7 15 0. The McLaughlin dwellings were therefore towards the poorer end, although in other nearby properties rateable values of ten shillings are shown. Robert McLaughlin may have worked on Robert Young's land, or in his bleachhouse, while farming his own 'garden' of 30 square perches.
In the 19th century, Cullybackey was known for its linen, and bleachfields surrounded the village. Andrew Russell's occupation as a bleachfield labourer is not unexpected. I have currently no information of the McAloneys or the McKays, and both Russell and McKay may be names of the initial settlement of Ulster from Scotland. McLaughlin, however, is a name that may come from further west; it is the second most common name in Derry.
---
Return to table of contents.