Farmers and Craftspeople:
Jenny Blain.
Copyright © J. Blain 2005-10
Newer findings: My father's family:

Blain, Philip, Renton, and Bell lines


Knaggs, Mushet and Gorrie lines

The Knaggs from North Yorkshire to Greenock

Mushet and Gorrie families, in Ayrshire and Perthshire


Return to table of contents for further sections
---
My father's family
From the Forth to the Clyde: Philip and Bell connections
Mary Bell Philip, her siblings, and her parents and stepfather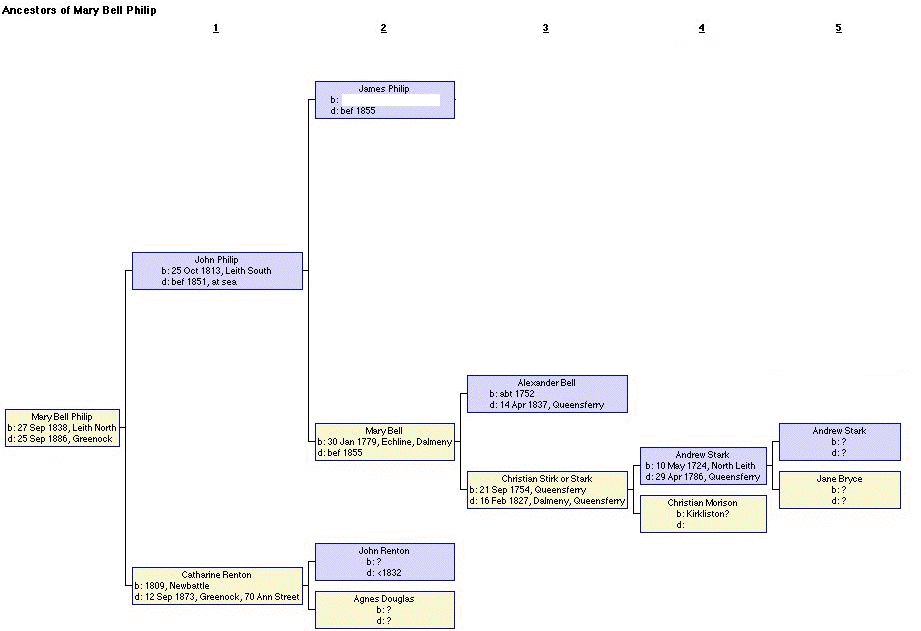 Mary Bell Philip, married to William Blain in 1860, was my great-grandmother. She was born in Coalhill in Leith on 27th September 1838, and baptised on 14th October. She died on 25th September 1886, at 38 East Hamilton Street, Greenock, leaving ten children.
Mary herself had several siblings, shown in the table below. All were baptised in Leith, with the possible exception of Catharine the eldest, for whom I have not found a baptism record; she is shown in the 1841 census, age given as ten.
| | |
| --- | --- |
| Catharine | 1832 |
| Agnes | bap 14 Nov 1835 |
| Mary Bell | 27 Sep 1838, bap 14th Oct. |
| Janet | bap. 5 July 1840 |
| John | bap. 31 Oct. 1842 |
| James | bap. 24 Feb. 1845 |
The parents were Catharine Renton and John Philip, married in Leith in 1832, recorded as:
John Philip Ship Carpenter Leith and Catherine Renton residing in Leith and daughter of the late John Renton, Workman, Newbattle, after proclamation of banns were married 19th March 1832 by the Revd. James Robertson Minister Leith
Catharine Renton seems to have been born in Newbattle. Her death record (1872, in Greenock) gives her parents' names as William Renton, forrester, and Agnes Douglas; her marriage records show John Renton, workman. This is of course not the only instance of a parents' name being misreported on a death record - reported by someone who never met the parents (in this case by Catharine's second husband). The birth of a Catharine Renton to John Renton and Agnes Douglas was registered in 1809, but this may be a little early. Catharine's age at death on 12th September 1872 is given as 52 - this in turn puts her birth around 1820, which is a little late for one who was married in 1832. The 1841 census gives ages for the Philip family in North Leith, at Ronaldson's Wharf:
| | |
| --- | --- |
| Philip, John | 25, Ship Carpenter Journeyman |
| Catharine | 25 |
| Catharine | 10 |
| Agnes | 5 |
| Mary | 2 |
| Janet | 1 |
'25' in this census implies a range of 25-30, putting her birth between approximately 1810 and 1816. From this, the 1809 Newbattle baptism might yet be correct; it says -
Renton:
Cathrine L D of John Renton and Agnes Douglas born April 26th & Baptized May 21st (this date is blurred) James Stephenson and Logrand Lumsden Witnesses. 1809
But the 1851 census, using reported ages and not rounding these, gives her age as 35. It may be that the earlier Catharine Renton (the second child in the family with that name) died and that John Renton and Agnes Douglas, as often happened, have given the same name to a later, unregistered, child, born at some point between 1810 and 1815. In the 1861 census Catharine's age is given as 40, which is clearly incorrect; she has taken possibly ten years off her age. In the 1871 census she is stated to be 55.
The family of Catharine Renton goes back to East Lothian, where her ancestors were farmworkers and labourers, and one a smith, in the area of Gladsmuir. These are explored in another file, 'Rentons and Fairlies in East Lothian'.
John Philip is given in the 1841 census as a ship carpenter, and described thus in his marriage record and the birth records of his children. He may have worked for a Leith firm onshore, or he may have travelled with a ship. What we know is that he died between 1845 and 1851; and his family - whether with him or after his death - moved to Greenock. It would seem most likely that the move was before his death, and connected with his work, as Greenock was growing as a shipbuilding port. His eldest brother James had moved there at some time previously.
By the time of the 1851 census, John had died; a cousin speculates that he, and his brother before him, died at sea. Catharine is now in Greenock, at 48 Scotts Land, Dalrymple Street, a widow with children. Her widowhood may be fairly recent: she is a washerwoman, and is living in a 'land' (tenement) where other heads of household include a shipwright and a sailmaker - and a 'huckster', another widowed woman (Janet Williamson) with a small child.
However a record from the Greenock Advertiser, available from the Watt Library index of newspaper entries for births, marriages and death (online at http://www.inverclyde.gov.uk/GeneralR.aspx?id=830&catid=1403) may refer to this John Philip. The daughter 'Jane' is the right age to be Janet born in 1840, and Robina is likely to have been born in Greenock, the birth not necessarily registered as I have not found it.
John Phillips, carpenter, died of cholera on 12th January 1849 at Wood's land, Tobago Street, Greenock age 36, daughters, Robina died on 14th January, age 17 months: Jane died on 12th January, age 8. (Greenock Advertiser 16.1.1849)
Catharine's household in 1851 includes her younger children:
| | |
| --- | --- |
| Catharine Phillips | 35, Washerwoman |
| Mary Phillips | 12, scholar |
| John Phillips | 8, scholar |
| James Phillips | 5, scholar |
(On Catherine and John's eldest daughter, Catharine, I have no further information. Agnes has remained in Edinburgh and on 27 March 1853 was married to James Lidster there. She gave birth to nine children, and on her death in 1894 was resident in Whitburn, West Lothian; I have some information on the Lidsters from one of her descendents.)
Shortly after the 1851 census, on 2nd June 1851, Catharine Renton was remarried to Allan McLean, a journeyman cooper, born in Ireland around 1831. They had at least one child, Jane McGowan McLean, born 14th September 1851. The 1861 census shows four people in their household at 5 Bearhope Street: Alan McLean aged 30, Journeyman Cooper; Catherine, 40, Jane, daughter, 9, school, and James Phillips, stepson, aged 17, cooper's apprentice. It seems from other evidence that Allan McLean may have brought up the younger Philip children - the later children of Mary Bell Philip include two sons named Allan McLean Blain, and a daughter Catharine Renton McLean Blain; and he notified the birth of Mary Bell Philip's first child (John Blain) to the registrar's office.
The two children in the 1861 census, James, cooper's apprentice, and his young half-sister, both married and had families. James was a cooper in the sugarhouse owned by Abraham Lyle, and when Lyle opened a new sugar factory in the 1880s, in Silvertown, East London, he took some of his skilled workers from Greenock to the new factory. Among these was James Philip.
James had, in 1864, married Mary Waugh, in Greenock. They had at least six children born in Scotland, mostly in Greenock, one (Hugh) in Glasgow. Among these was Alan Philip, born in 1870 and named for his step-grandfather, whose daughter Mary Waugh Philip was grandmother of a cousin, Veronica, who has given me the story of the move to Silvertown. She reports that at the wedding of this Alan Philip to Margaret Matthies McLean (daughter of another Greenock cooper) in Silvertown in 1894, one of the witnesses was Robert Blain - quite possibly a close relative of the William Blain who in 1860 was married to Mary Bell Philip.
Jane McGowan McLean was married to Andrew Masson, a sawmaker, in Greenock, in 1875. They had several children, The household in the 1891 census, shows Jane, with four children, aged from one to 13.
Philips and Bells on the Forth: James Philip and Mary Bell
Mary Bell Philip was named for her grandmother. John Philip, her father, was seventh of nine children of Mary Bell and James Philip or Philp, though not all survived childhood. The spellings 'Philp', 'Philip' and 'Phillips' seem interchangable, with 'Philp' more frequent in the earlier records. These children were:
| | |
| --- | --- |
| James | born and bap. 15 Feb 1800 |
| Janet | bap 11 Jul 1802, died 8 Feb 1804 |
| Mary | born 23 and bap. 31 May 1804 |
| Robert | born Oct 1806 and died 1 Apr 1807 |
| Robert | born 21 Jan, bap. 28 Jan 1808 |
| Christian | born 4th, baptised 19 August 1810 |
| John | born 25 Oct, bap. 14 Nov 1813 |
| Mary | born 17 Aug 1817, died 3 March 1819 |
| Andrew | born 7 March, bap 2 April 1820 |



The first child named Robert does not have a baptism recorded (that I have found). The children who died young are buried in South Leith burial ground, in the Wrights Ground. South Leith burial records are very good, yet there is no record for the earlier Mary, born in 1804 and presumably dying at some point before 1817. It is however clear that the birth records have some problems; the page holding the 1804 Mary's baptism has four entries dated October 1804, followed by two baptisms from April and May. The April entry is for Marion Neilson, daughter of Robert Neilson, cooper in Leith, the May entry for Mary Philip, daughter of James Philip, 'cooper' scored out and rewritten as 'carpenter' in Leith. It may be pointless to speculate whether the names of the two children are accurate. A line below the Philip entry explains their inclusion in October: 'N.B. These Childerens names not being sooner notified to the Clerk is the reason of their insertion here' (spelling as original).

The marriage of James Philip and Mary Bell was in 1799.

James Philip Carpenter in Leith, and Mary Bell Residenter in Edinburgh and Daughter of Alexander Bell Wright (Queensferry) after proclamation of banns were married May 17th, 1799




James is described on the birth and death records of children as wright, carpenter, shipwright, or ship carpenter. Leith shipbuilding was changing during the period of the late 18th and early 19th centuries, with large shipbuilding yards being developed. He is likely to have served an apprenticeship of some kind, though where is not noted. It may have been with Alexander Bell of Queensferry (identified as deacon of the wrights' trade there in the 1820s), later his father-in-law, or with a Leith master. His name is not in the Edinburgh apprentice records: possibly therefore he served an apprenticeship elsewhere, but the apprenticeship system was breaking down by the late 18th century and in any case the apprenticeship records do not show everyone. In particularly, children of burgesses or craft masters tend to be omitted from the record.

There is however the possibility that James Philp was not originally or only a ship carpenter, but did house-carpentry work also. Either way, he may have been the last in this family to have undertaken a traditional apprenticeship, before the development of large shipbuilding yards. His sons James and John, likewise ship carpenters, may have been working in a different mode. The baptism records of his sons name witnesses (up until John in 1813, from whom the witness is 'the congregation'), Alexander Bell, wright; Duncan Macfarlin, carpenter; Thomas Bird, shipmaster; Robert Skinner, wright; Thomas Wishart, sailor; and Robert May, not identified by occupation. Of these, Alexander Bell and Duncan Macfarlin are related - Duncan Macfarlin having married Beatrix Bell (sister or cousin[1] of Mary). It is tempting to think that these two may have been both apprentices of Alexander Bell, but that can only be speculation.

Mary Bell's immediate parentage seems fairly clear. That of James Philip is more problematic. I will outline the Bells of Queensferry and Leith, then indicate some speculations on the possible ancestry of James Philip.
Bells and Starks of Queensferry, Dalmeny, Kirkliston and Leith
Alexander Bell married Christian Stark around 1774, probably in Dalmeny; there is not a record for the marriage. Their children were:
| | |
| --- | --- |
| Beatrix | bap 5 Jun 1775 |
| Christian | bap 25 May 1777 |
| Mary | 30 Jan 1779, bap 8 Feb |
| Alexander | bap. 5 Nov 1780 |
Beatrix may have been the one marrying Duncan Macfarlin; Alexander married in Dalmeny and I have been contacted by some of his descendents. I have nothing further on Christian. Five other births are recorded, with no first names and only the father indicated, from 1783 to 1794; likely to be infants stillborn or dying at birth.
Christian Stark was daughter of Andrew Stark and Christian Morison, born in 1754 in Queensferry. Unfortunately records do not give parents' occupations; Andrew Stark was in Queensferry at the time of his marriage, Christian Morison in Dalmeny where the marriage took place. She may in turn have been the Christian Morison born in Kirkliston in 1723, daughter of Robert Morison and Jean Eiston, Hasting or Eastoun - various spellings are given for their marriage in 1719 and for the births of children Margret (1721), Christian (1723) and Thomas (1726). Andrew Stark died in Queensferry in 1786.
Christian Stark's death in 1827 was recorded in Queensferry, her age given as 73. 'Christian Stark, wife of Deacon Bell, died the 16th and buried the 20th February, in Dalmeny'. Her husband Alexander Bell lived to the age of 85, dying in 1837. To gain the designation of 'deacon', presumably of the wrights' craft, he must have been a craft master, although this may have carried less weight in the small town of Queensferry than it would in Edinburgh or Leith.
I speculated for some time over the possible parentage of Alexander Bell. From the age on the death record, a possible candidate is Alexander son of George Bell and Agnes Gray (mis-transcribed as Agnes Greig in indexes), born in South Leith in 1753. Investigating this further, I found a marriage of George Bell and Agnes Gray recorded in both South Leith (11 June 1750) and Dalmeny (15 June 1750). They had four children recorded:
| | |
| --- | --- |
| Agnes | bap 15 Sep 1751 |
| Alexander | bap 28 Oct 1753 |
| William | bap 7 March 1756 |
| George | bap. 21 May 1758 |
On this Alexander's birth record, George is named as a brewer's servant. Witnesses to Alexander's baptism are Gavin Bell and Alexander Leslie, both indwellers in Leith. By the time of the youngest child's birth in 1758, his father George is named as a porter. Both George and Gavin were children of William Bell and Marion Ponton, of Dalmeny. In 1758, William Bell was 'in Cragie', a farmtoun (today's Craigie, east of Dalmeny) though whether farming or in some other capacity is not clear. If this is the right Alexander, George or another kinsman must have arranged an apprenticeship. However 'porter' in the 18th century implied rather more independence than these workmen possibly had later. At the end of the 17th century, the 'Workmen in Leith' became a Corporation and charged an entry fee for admission. Sue Mowat in 'The Port of Leith' (2003) describes the Act of Council of Edinburgh which created their Society.
In 1695... they were first organised into Companies, a system which survived for over 250 years. Each Company consisted of twelve 'lusty, able men', who would elect an 'oversman'... By virtue of the Act, the Workmen were now a Corporation, charging an entry fee which went towards the upkeep of their sick members and the widows of the deceased. The rate was £4 Scots for an unfreeman and 2 merks (£1 6s 8d) for the son of a freeman (Mowat, p 260).
However by the mid 18th century there were a considerable number of 'unentered' porters in addition to the 'badge porters' of the four companies. Whether George Bell was a licensed porter or an illicit porter is not known.
It may be possible that Alexander Bell, who was to become a wright in Queensferry, had a quite different parentage. In particular, there may be connections with the family of Nicol Bell, coppersmith in Leith, and lines of speculation which beg exploration.
A possible ancestry for James Philp
There were several families of Philp or Philip in Leith in the mid to late 18th century. It is unfortunate that the marriage record of James Philp and Mary Bell in 1799 does not give an indication of a father's name for James, who is simply described as a 'Carpenter in Leith'. James need not, however, have been born in Leith or indeed anywhere locally. Apprenticeship records might resolve this issue, but I have not had access to Leith apprenticeships and he is not in the Edinburgh roll, though as said not all apprentices are entered there. Other avenues have been tried: my cousin Veronica has attempted to look through stamp-duty records at the National Archives in London, and I have pursued online apprenticeship records where these are found, and copies of Fife apprenticeships - but no possible candidates have so far emerged.
I have attempted to eliminate various James Philps born around the right time in fairly local areas as possibilities. One for some time resisted elimination, though has indeed now been ruled out. Nevertheless, I will retain material on that particular James Philp, born in Leith in 1779, part of which is in a separate set of documents on this website, for its interest value, as the story of his family indicates much of the history of Leith and Edinburgh of the 18th and 17th centuries.
However, returning to James Philp the carpenter in Leith - some possibilities seemed to be:
James Philps (25 Oct 1767) son of James Philps and Mary Paterson in Corstorphine - though this would make James twelve years older than the 20 year old Mary Bell on their marriage
James Phillip (6 Sept 1770) son of Hugh Phillip and Helen Dingwall in St Cuthbert's parish - although neither 'Hugh' nor 'Helen' appear at all in later family names
James Philp (25 July 1779) some of John Philp and Marion Cunningham in South Leith.
(This third, though is born in the right place around the right time, is the one now disproved: he went to London, married there and had one daughter there.)
However, as said, James Philp could have come from anywhere. There were many Philps families in Fife, for instance. I have looked at marriages in Leith and the very good (until 1820) South Leith death records, searching for any likely candidates. Various James Philps appear in these Leith records and given the rather sparse information in, for instance, burial records it in not necessarily easy to sort them out: it requires birth, marriage, children's births and burial records to know conclusively who is who. Besides, the online burial records for the South Leith churchyard stop at 1819.
Some Jameses can be accounted for. A James Philp, cabinetmaker, was married to Janet Oliphant in South Leith in 1789; they lived in Broughton with several children registered in St. Cuthbert's parish overlapping in time with the births of 'my' James Philp's children, they are buried in Old Calton burial ground (hence appearing in South Leith records: confusingly, two sets of records are named for South Leith parish, one for the South Leith Kirk burial ground, the other for Old Calton, and a search on Scotland's People pulls up items from both at once), and from the date of marriage, of the first child's birth, and the age at burial this James was born around 1770. Yet another James Philp and Janet Young were parents of a Piggott Philp born in South Leith in 1798; this James is likely to be a little older and indeed, an LDS member indicates an earlier date of 1766. Another James Philp, a merchant, buried in North Leith aged 60 in 1836, was apparently born around 1775, but has the wrong occupation to be 'mine'.
Attempts to rule out the James Philp born in 1779 were for a long time unsuccessful The South Leith burial ground records show the parents of this 1779 James, and two of his brothers who died young, but not him. Lack of evidence, however, is not conclusive, suggesting only that the James born in 1779 could be the carpenter who married Mary Bell, not that he was. And indeed, it was finally a census record from London, together with the will of this James's daughter, Mary Ann, found by a good deal of detective work ont he part of my cousin Veronic and myself, which has now conclusively ruled him out. But having eliminated him, we were back to the beginning. The extant burial records at the Scotland's People website for South Leith end in December 1819; and so while it seemed likely that both James Philp the carpenter and his wife Mary Bell were buried there, in the Wrights' Ground, I could not find his age or any other contextual detail.
However, there are some burial records included with Kirk Session records from after 1819, and on a visit to Edinburgh I was able to see these at the National Archives of Scotland. They include:
(August 1826)
Mary Bell Spouse of James Philips Shipwright in Leith aged 47 years died the 19th and buried the 22nd, in the Wrights Ground 3 paces South and 5 East from Joannies McKays Head Stone.

(August 1836) Philip
James Philip Ship Carpenter in Leith aged 61 years died the 27th Buried the 30th in the Wrights ground 20 feet south and 8 West from Joannias McKays Headstone. [2]
These to me give the best evidence for the age of James Philp. There remains a small doubt, in case there were two James Philips, both ship carpenters, of course!
It remains therefore most probable that the James Philp who married Mary Bell came into Leith from elsewhere or that his baptism was not recorded. There were James Philps born in Fife, for instance. One, son of Robert Philp, wright in Dairsie, and Janet Kermoch or Carmoch, born 13/11/1775 in Dairsie, the parents having married in Dundee, must be regarded as a possible competitor unless his whereabouts later can be ascertained. He is the right age, and his father is in a related occupation - but we have not found evidence for his coming to Leith. There still remains the possibility that 'our' James is a son of one of the Leith Philp families, but that his birth record is missing.
---
Footnotes:
[1] Beatrix Bell was the eldest child of Alexander Bell, the elder sister of Mary. However the Beatrix Bell who married Duncan Macfarlin is identified in her marriage record as daughter of James Bell, wright in Queensferry. I have found no other mention of a James Bell there and this may be a clerical error; the coincidence of names suggests that Beatrix and Mary are at least related. The marriage was in South Leith, 17 March 1798. There was, however, a James Bell in Leith, and with so many Bells this issue is complicated.
[2]Sources for these death records are Ch2/716/120 p.163 and Ch2/716/121 p. 109, available in the National Archives of Scotland.
---
Return to table of contents.