The Dunrobin connection
William McCulloch, mason in Linlithgow and later minor landowner and innkeeper of the Bridge Inn, was married in 1789 to Ann Simson, in Golspie parish, Sutherland. Mary, their eldest child, was born in Urray, Ross-shire, although this birth is attested by only the 1861 census entry. Other children were baptised in Linlithgow (Agnes, 1794) and Muiravonside (Robert, 1797, Margaret, 1802, Euphemia, 1806). 
The 1789 marriage record of William McCulloch and Ann Simson reads, 'Aug[us]t 29th. William McCulloch Mason at Dunrobin and Anne Simpson there were married of th[i]s date.' I explored some of this in my earlier site at http://www.wyrdswell.co.uk/ancestors/Additional/McCullochs.html - the reason for William to be in Sutherland is clearly that he was a mason working on the first major remodelling of Dunrobin castle. That he was able to buy a piece of land (from the estate owned by William Forbes of Callendar) in 1794 indicates that he was a master mason, and may have done rather well out of his working in Sutherland.
About Ann, at the time I wrote the earlier piece, I could only speculate that she was a servant at Dunrobin, with no pointers to her origin, and that Mary might have been born when her parents were on their way south to Linlithgow, on completion of William's work at the castle. But read on ...
Dunrobin today is one of the great houses of Scotland, an enormous white castle near the sea, with 189 rooms. When Ann Simson was there, it would have looked rather different. There was extensive building work in the 1840s, resulting in a 'fairytale' castle three times the size of the previous one, so that much of the exterior dates from this time, and there were extensions also in the 1830s. However, the first major remodelling was in the 1780s to early 1790s, after the marriage of Elizabeth, Countess of Sutherland to George Leveson-Gower in 1785. The Dunrobin feature page at Undiscovered Scotland (at https://www.undiscoveredscotland.co.uk/golspie/dunrobincastle/index.html ) states, 'After their marriage in 1785 the Sutherlands oversaw the remodelling of Dunrobin Castle. What was already there was upgraded, and a new south range was built, enclosing the central courtyard.'
This work is what would bring William McCulloch, mason, from Linlithgow to Dunrobin. The result of the 1780s building is pictured in A Genealogical History of the Earldom of Sutherland by Sir Robert Gordon, published 1813.
The younger McCulloch children, Robert, Margaret and Euphemia, were baptised in Muiravonside parish, after William had purchased the piece of land at Linlithgow Bridge just across the Avon (and so in Stirlingshire) on which the Bridge Inn and other houses stood, and become an innkeeper there. Agnes, the second child, was baptised in Linlithgow in 1794. However, for Mary, the eldest, there has been no baptism record found; the census for 1841, when she was in Edinburgh, says only that she was born outside Midlothian and that for 1851 does not give a birthplace. In the 1861 census she is said to have been born in Urray, in Ross-shire, and her birth would be around 1789-90. 
However the Female Tax Records available from Scotland's Places (part of the National Records of Scotland) give some further information. Ann was still employed at Dunrobin in November 1790, listed in Female Tax Servant records (29th November).
Female Servant tax records from the 1780s exist and are made available by National Records of Scotland at the ScotlandsPlaces.gov.uk website. Those for Dunrobin are listed for 1785-6 until 87-8 in the name of the Rt Hon. Countess of Sutherland, then until 1791-2 in the name of the Right Honourable Earl Gower. (The years run from April 5th to April 4th, as these are records of tax payable, though made part-way through the year.)
In 1785-6 female servants there were Mrs Davidson and Isobel Baillie.

In 1786-7, Sara Moor and Betty Bolt.

In 1787-8, two female servants, but they are not named.

In 1788-9, one female servant, not named.

In 1789-90, one female servant, not named. 

In 1790-1 one female servant,

named as Ann Simpson

.

In 1791-2, one female servant, not named.
Unfortunately no further records are available, and the NRS site indicates that the tax was levied only between 1785 and 1792. This was a tax payable by employers of 'non essential' female servants, that is, not farm or craft workers, but mostly domestic servants which Ann Simson will have been. It was a 'luxury' tax, and Susan E Brown in an article on 'Assessing Men and Maids: The Female Servant Tax and Meanings of Productive Labour in Late-Eighteenth-Century Britain' (Left History, 12:2 2007 accessed at https://lh.journals.yorku.ca/index.php/lh/article/view/14967) has discussed how all female domestic servants were considered 'unproductive' in framing this tax, their work being largely out of sight even though essential to the running of the household. 
With so few female servants listed for Dunrobin, it seems likely that Ann Simpson, and the others listed for the various years, were running the house with their employers largely absent during the course of the building work. The Sutherland couple would be based elsewhere during the renovations, though with site visits. (The records indicate more servants for the Sutherlands elsewhere, but only the two or one who were at the location would be in this tax record rather than those accompanying the couple from their other houses.) It seems likely that Ann would be a cook or a caretaker-housekeeper - that is, not a lady's maid, but very much involved with the day to day running of the household and possibly providing for the work-people or at least the senior ones, such as William must have been. It's interesting to speculate how her work for the castle may have led to her husband buying the piece of land that included the Bridge Inn, and the couple then running this Inn.
It is unfortunate that the servant in 1791-2 is not named. However it would appear that Ann Simson was at Dunrobin during the year April 90-91, after her marriage, and possibly after the birth of the child Mary.
Ann's possible connection with Ross-shire
So, why might that child be born in Urray, Ross-shire? One possibiity - and I stress only a possibility, is that Ann had family there. And there just might be a possible birth for Ann herself in the next-door parish, though this comes into category of highly speculative and not verifiable … read on…
Ann died in 1823 and was buried on 12th March in Linlithgow burial ground at St Michael's church, in the grave of her husband who had pre-deceased her by ten years. There is a burial record for 11s 4d paid for use of the 'best large mortcloth'. The inscription on a stone erected in 1813 reads: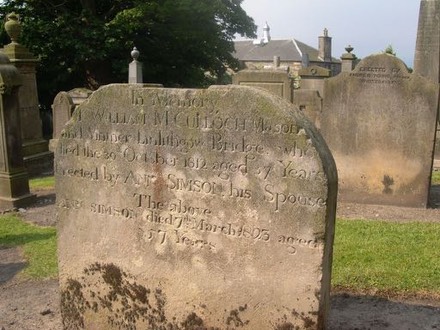 In Memory of William McCulloch Mason and Vintner Linlithgow Bridge who died the 30th October 1812 aged 57 years
Erected by Ann Simson his spouse
The above Ann Simson died 7th March 1823 aged 57 years
This is the only record which gives an age, and hence a possible birth date, for Ann. For her to be 57 in 1823, her birth would have been around 1765-66. Ages at death are often out by several years, so that's 'give or take a few'. The only other clue to her possible family is that her eldest daughter was named Mary - a very common name, but not the name of William's mother. (The only son of Ann Simson and William McCulloch was named Robert, the name of William's father.)
Looking to baptism records in the areas around Urray, I found one from Urquhart and Logie Wester, December 28th 1762, for 'Ann Daughter to William Simson in Dromanreach & to his spouse Mary Munro'. This couple had a son Hugh with a recorded baptism in 1759, and the parents were married in 1748, both then resident in Urquhart and Logie Wester.  Possible other children, with only the father named, were John (1748) and Donald (1751), the latter being born in Drumanreach though the former in a different farm-town.  However while there are extant baptism records from Urray from 1751, and Urquhart and Logie Wester from 1715, for some other nearby parishes the records begin much later - Contin, for instance, starting from 1778 - so that there can be no assurance that this was the only Ann Simson from that area around the right time. This parentage for Ann remains very highly speculative.
There is one small other pointer here - one DNA connection (to me and other McCulloch/Simson descendants) who, though having Linlithgow ancestry, shows nothing pointing to the connection being there but has a similar northern line. So, it's quite possible that Ann Simson was from somewhere in the Northern counties, but there's nothing to say if she was that child born in 1762 in Dromanreach.
On the McCullochs and their kin we are on much surer ground - so on, now, to McCulloch and Gilles in Linlithgow.